Milwaukee Home Inspections
Reliable Reports
Stress-Free
Mon-Sun 7am-8pm
26 Year Professional
Highly Recommended
Certified Master Inspector®
Drone Certified
Great Discounts
Pre-Purchase Walk-through
"Verbal Only" Inspection
Post-Purchase/After Closing
Major System Inspection
Post-Purchase/After Closing
Written Full Home Inspection
Awesome Anderson Home Inspection Discounts Good thru 7/31/2021
After hours? Leave your name and phone, and we'll call you promptly!
Don't delay! Contact us now.
Over 17,000 Properties Inspected Since 1995!
Experience and credentials make all the difference when choosing your home inspector!
Our promise is to provide you with the most competent and detail-oriented home inspector
who will treat you with care, patience and loyalty.
Contact us today for a home inspection report you can trust!
We treat our customers like family and our reviews tell that story!
Being a first time home buyer it's an important step in purchasing a home. Thank you so much for working with my son as well and explaining everything to him.
Donn was very pleasant to work with. He explained things for me and is very thorough and detailed. From the beginning to the finish of the inspection i would highly recommend Donn of Anderson Home Inspection to anyone that needs this service. He is very knowledgeable and anyone can see that in his detailed report. Thank you Donn!
My husband and I really thank Donn and his team for all they did in the inspection.
He took his time to answer all our questions and concerns and gave us expert advice for our home.
Thanks again Donn
Donn points out things that you would never think of, takes his time to get a quality job done, and really treats you as if you're family.
Donn did a great job on our home inspection. He has saved us from what could have been MAJOR home issues and makes sure you understand everything that he is doing.
We highly highly recommended Donn and will be referring him to everybody in search of a home inspector.
Donn and his crew were very helpful for us when purchasing our first home.
As first time home buyers, they walked us through each troubled area found and explained it thoroughly.
We would recommend Donn to all!
Very satisfied!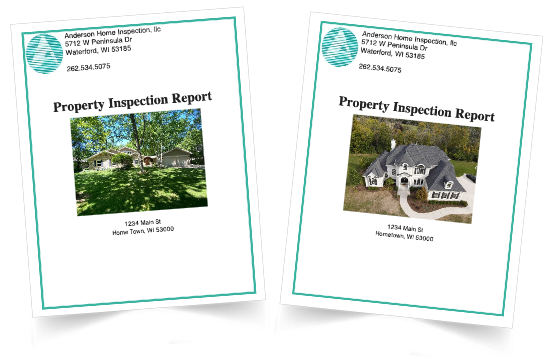 DETAILED INSPECTION REPORTS
YOU CAN TRUST!
Our easy-to-read detailed report is what you need to make your decision.
Donn and his team know their stuff. Donn on very short notice was able to get a second person to do a home inspection on a very large house that we were considering purchasing.
He talked us through the entire process before, talked us through the home during, and has done multiple follow-ups afterwards. His report is as thorough as anything I have ever seen. Additionally, he gives you great resources to help you understand and maintain your home after the purchase. He was referred to me by several good friends, and I am going to do the same.
Professional and thorough!
I appreciated the detailed inspection report with pictures and the information and tips shared post inspection.
As first time home buyers, it was important to us to find a reputable, thorough inspector who we felt had our best interests in mind while performing the inspection.
Donn and Robin were a pleasure to work with from scheduling through receiving our detailed inspection report.
His thorough inspection and walk through made us feel confident in the purchase of our home.
Thanks again, Donn!
Very thorough and extremely knowledgeable. Donn gets straight to the point and has a lot of past experience to back his statements and findings.
Would definitely recommend to anyone. As a first time home buyer I feel confident that my new home has been thoroughly inspected so I know exactly what I'm getting.
We received a very thorough and detailed report from Donn that included a lot of pictures. His detail is outstanding.
The added bonus of using a drone to do the roof inspection on a 2-story Colonial perched on top of a sloping hill was a big plus.
Pre-Purchase Walk-through
"Verbal Only" Inspection
Post-Purchase/After Closing
Major System Inspection
Post-Purchase/After Closing
Written Full Home Inspection
Other Discounts Available too!
We're happy to offer home inspection discounts to many different groups. Contact us to see how you may qualify!
First Time Home Buyers | Veterans & Seniors | First Responders & Fire Fighters | Law Enforcement | Health Care Professionals | Educators